Brother Luminaire Innov-is XP2 Sewing, Embroidery & Quilting Machine
Sewing technology has just gone from light years ahead to light years beyond. Presenting the Luminaire 2 Innov-is XP2. Brilliant new quilting innovations and app based features available from your mobile devices, allow you to find perfection in every stitch.
---
CONTROL AT YOUR FINGERTIPS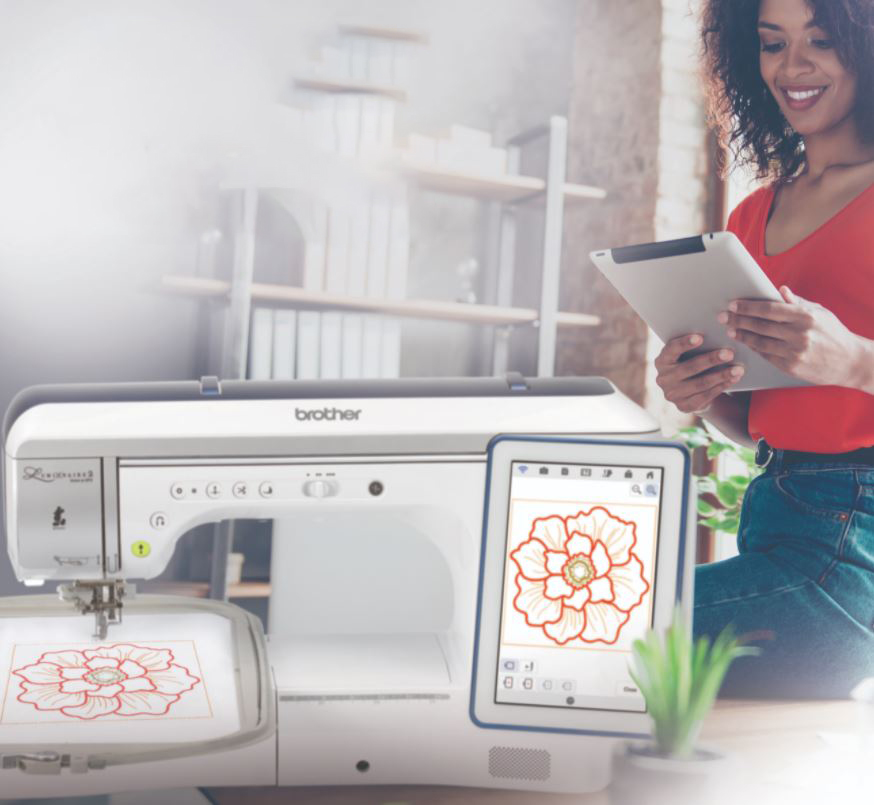 MY STITCH MONITOR MOBILE APP
Enable wireless LAN connectivity between your PC and the Luminaire 2 to keep track of your embroidery with the My Stitch Monitor mobile app on your iOS and AndroidTM device. Walk away from your machine and receive convenient notifications via your mobile device when you need to change threads or if your project has finished stitching.
---
SELECT. SEND. EDIT. CREATE.
MY DESIGN SNAP MOBILE APP FOR IMAGE TRANSFER
Transfer images wirelessly with the My Design Snap mobile app. Select a picture of line art or an illustration from your iOS or AndroidTM mobile device and send it directly to the Luminaire 2 through your wireless network. Personalization and customization are now available in seconds.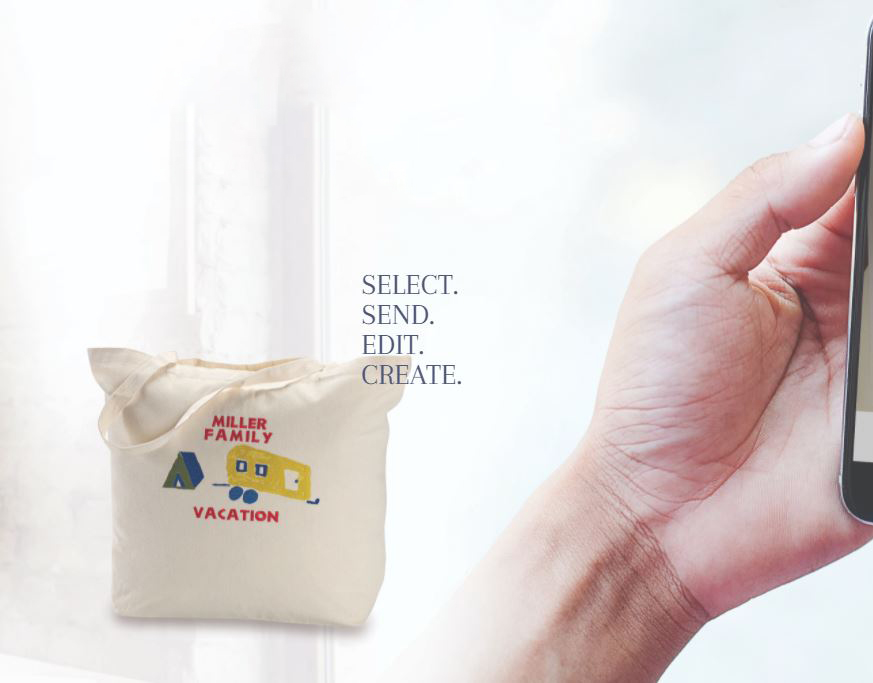 ---
Stitchvision Technology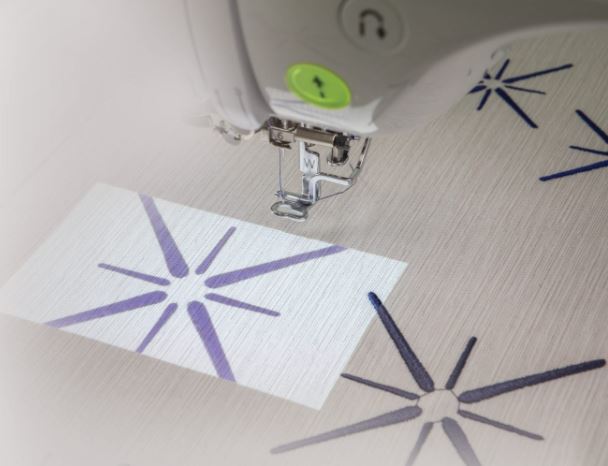 STITCH PRECISION WITH STITCHVISION TECHNOLOGY
Enjoy StitchVision Technology, a revolutionary system for virtually perfect stitch positioning* and more precise previews via an intelligent projection of light. Preview and edit stitches and embroidery designs directly on your fabric.
---
65 SQUARE INCHES OF WORKSPACE
13.1" NEEDLE TO ARM SPAN
Experience the comfort of sewing on 65 square inches of workspace, the largest of any Brother machine. With the 13.1" needle to arm span, projects of any size are easily managed. A dream for any sewer, embroiderer, crafter, or quilter, with the ability to accommodate a rolled king-sized quilt.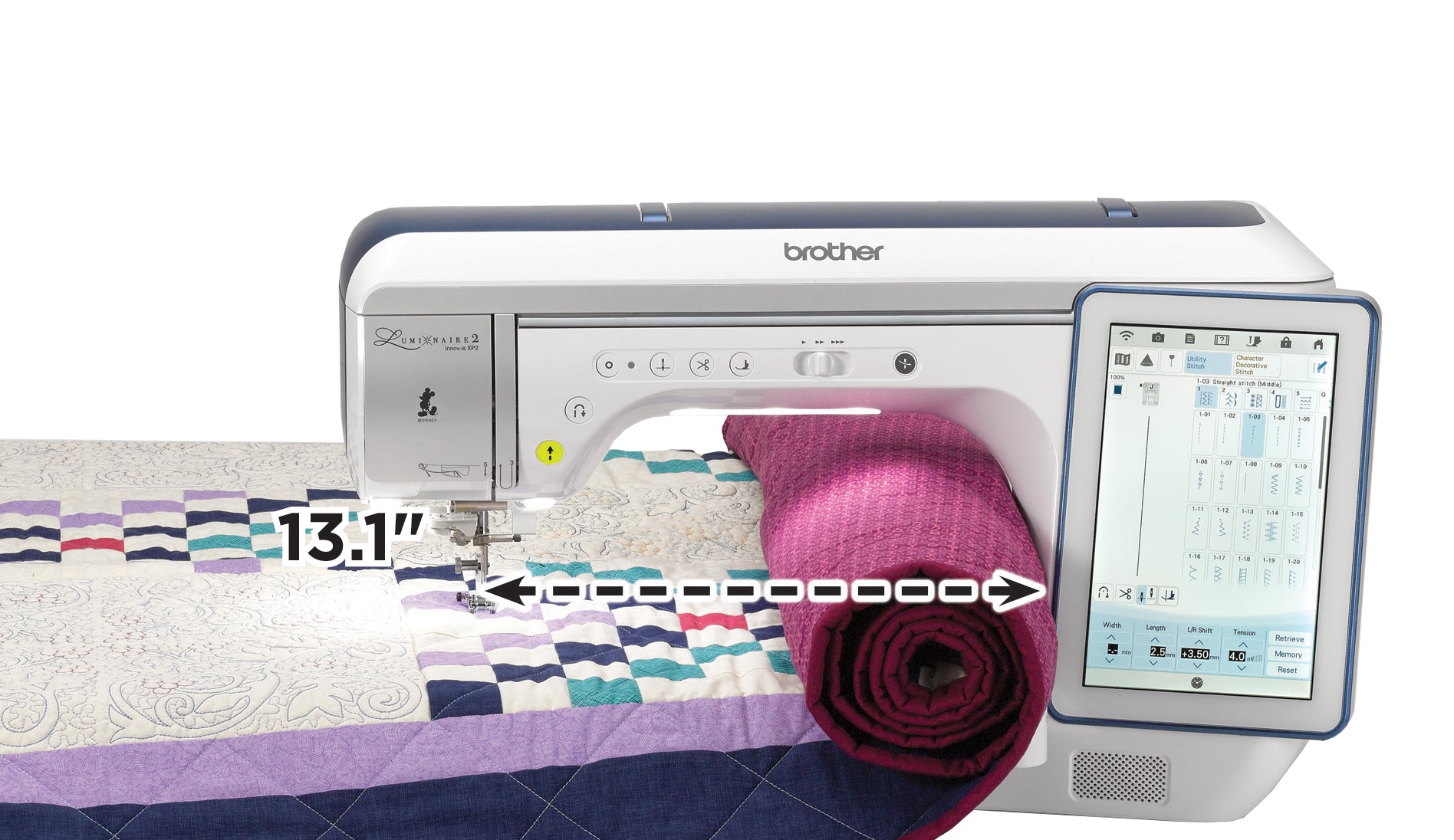 ---
Top Features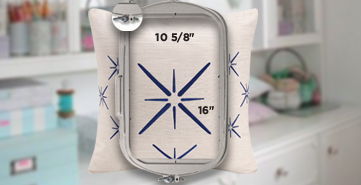 LARGE 10 5/8" X 16" FRAME
Make your projects larger than life with the new 10 5/8" X 16" frame, the largest that Brother currently offers. This sizable frame has efficient rubber plates on both sides of the inner frame to hold fabric securely.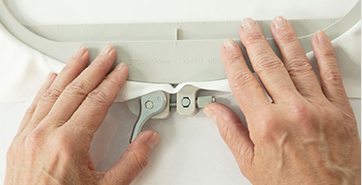 SPRING LEVER RELEASE
An ergonomic Spring Lever Release enables easier, clamp free hooping. Simply place your fabric in the hoop and engage the lever.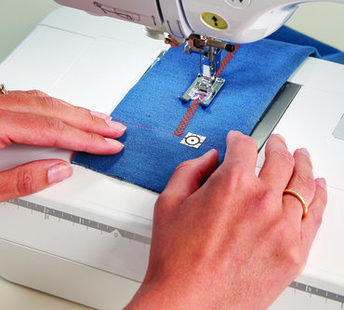 END POINT SEWING FUNCTION
Utilizing the built-in camera-like feature in the InnovEye Plus Technology, you can now stop your stitch in the perfect place by just placing the Snowball End Point Sewing Sticker on your project.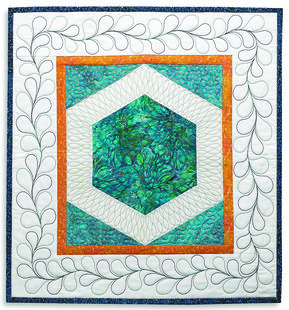 AUTO-SPLIT OF LARGE QUILTING SASHES
Easily connect patterns for beautiful quilt borders! Choose the size of your border, and the size of your hoop and the Luminaire 2 will automatically split the design in multiple hoopings - saving you time and effort for a seamless sewing experience.
---
LARGE 10.1" HD LCD TOUCH SCREEN DISPLAY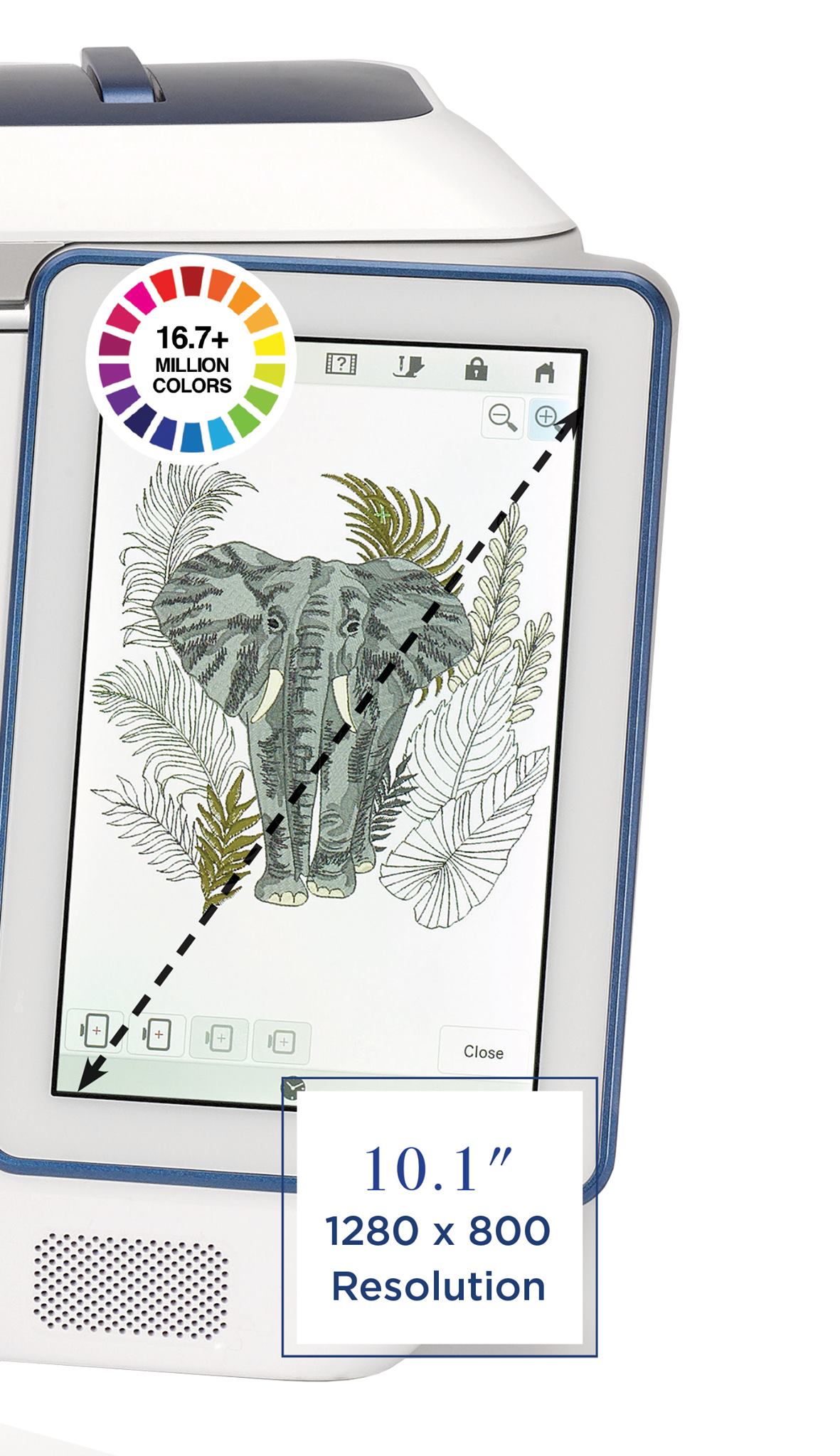 WITH CAPACITIVE TECHNOLOGY
The simple and intuitive 10.1" capacitive touch screen works like a tablet with familiar sliding, swiping, scrolling, and pinch-to-zoom for viewing detailed steps, categories, and designs. The user interface offers large, defined crystal-clear icons, and color navigation for easy viewing.
---
Disney is in Our DNA
The Luminaire 2 has the magic of 192 built-in Disney embroidery designs and 10 decorative Disney stitches. Additionally, access exclusive Disney and Disney·Pixar embroidery designs through the iBroidery.com Download Center. *Additional purchase required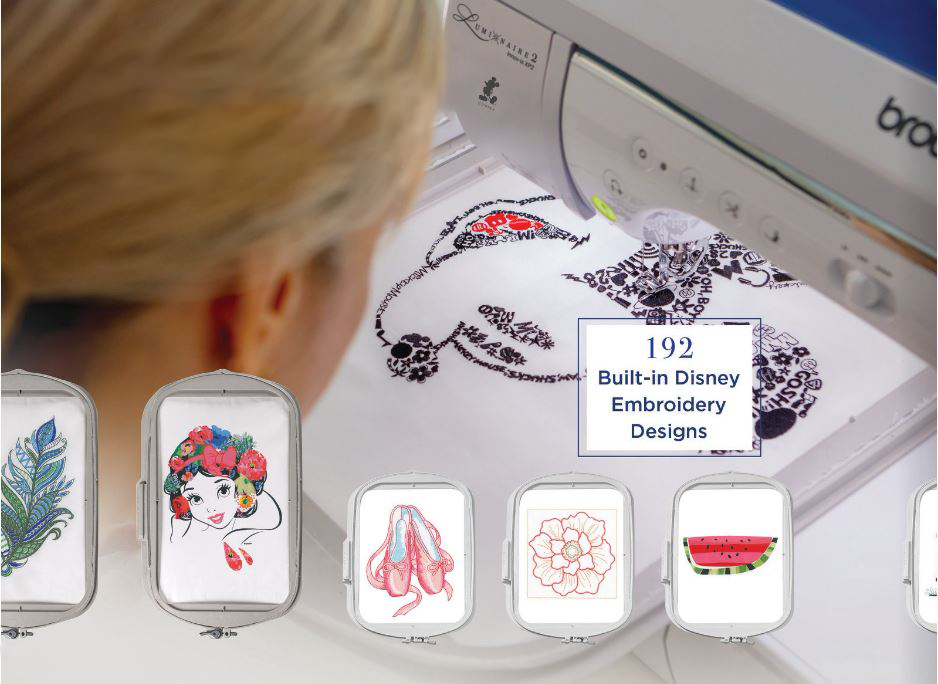 ---
ENHANCED INNOVEYE PLUS TECHNOLOGY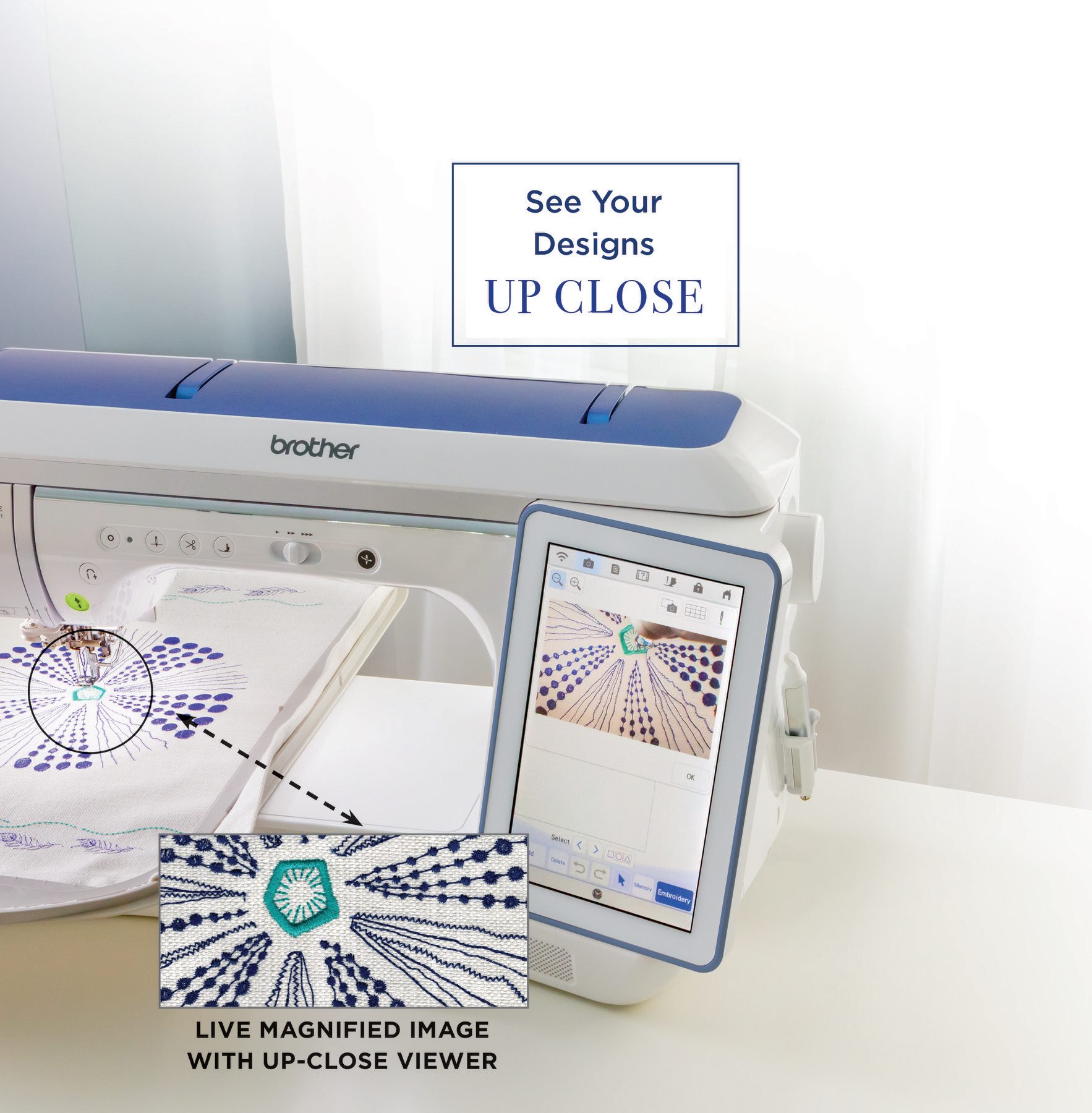 WIDER VIEW AND FASTER SCANNING IN HIGH RESOLUTION
It's like having a built-in camera and scanner! The ability to scan the entire embroidery area provides virtually endless creative options and helps ensure that all your projects are perfect.
---
BUILT-IN EMBROIDERY DESIGNS AND SEWING STITCHES
WIDE LIBRARY OF DESIGNS AND FONTS
Let your imagination and creativity run wild with the extensive library of over 1,300 built-in embroidery designs, including Disney, Anna Aldmon, Zundt, ZenTangle, and Pierre Joseph Redoute.
1,322 BUILT-IN EMBROIDERY DESIGNS, 192 DISNEY & PIXAR CHARACTERS, 670 BUILT-IN DECORATIVE STITCHES, 10 DISNEY SEWING STITCHES, 24 EMBROIDERY LETTERING FONTS, 4 SEWING LETTERING FONTS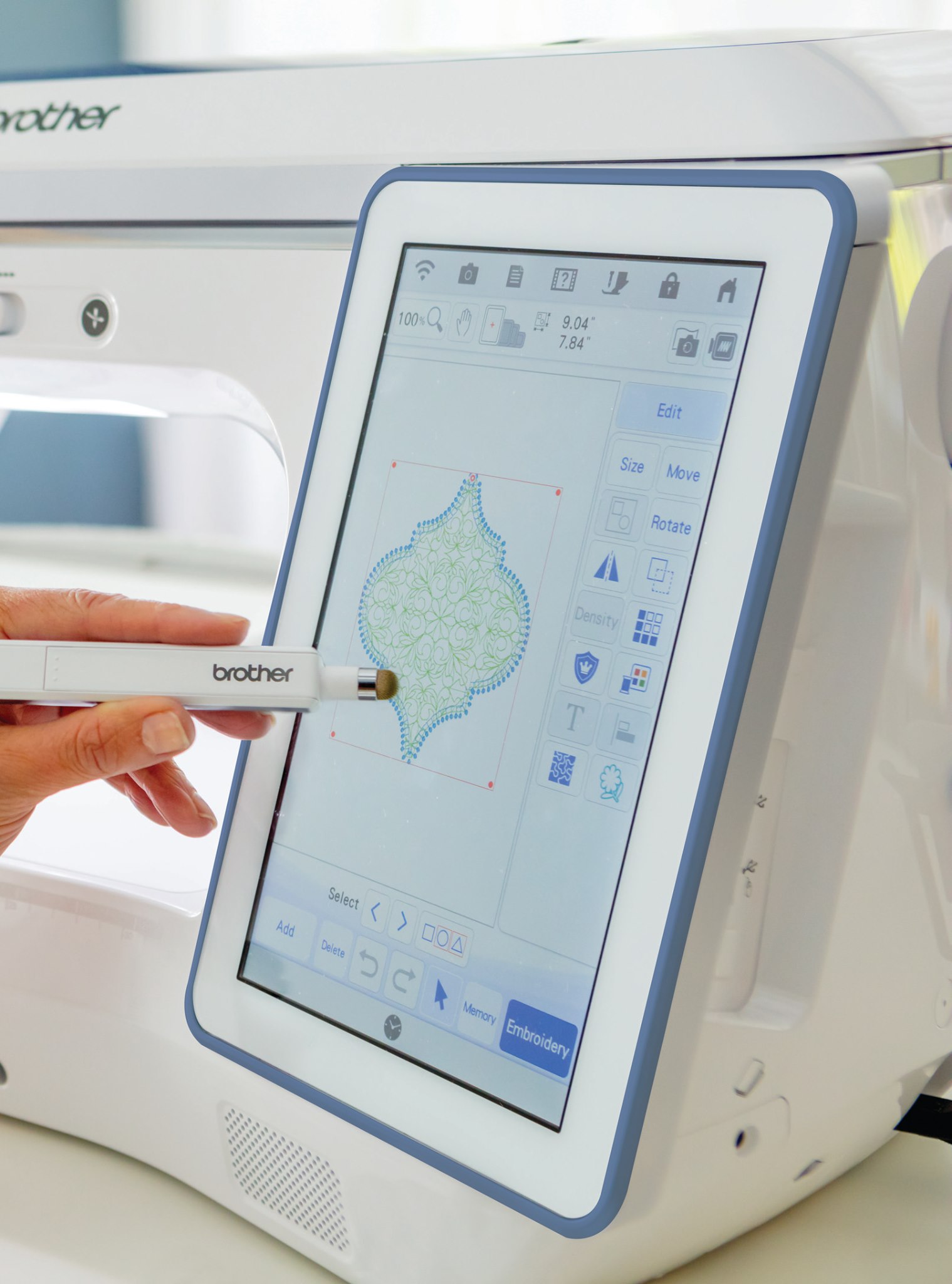 ---
PERFECT FOR QUILTERS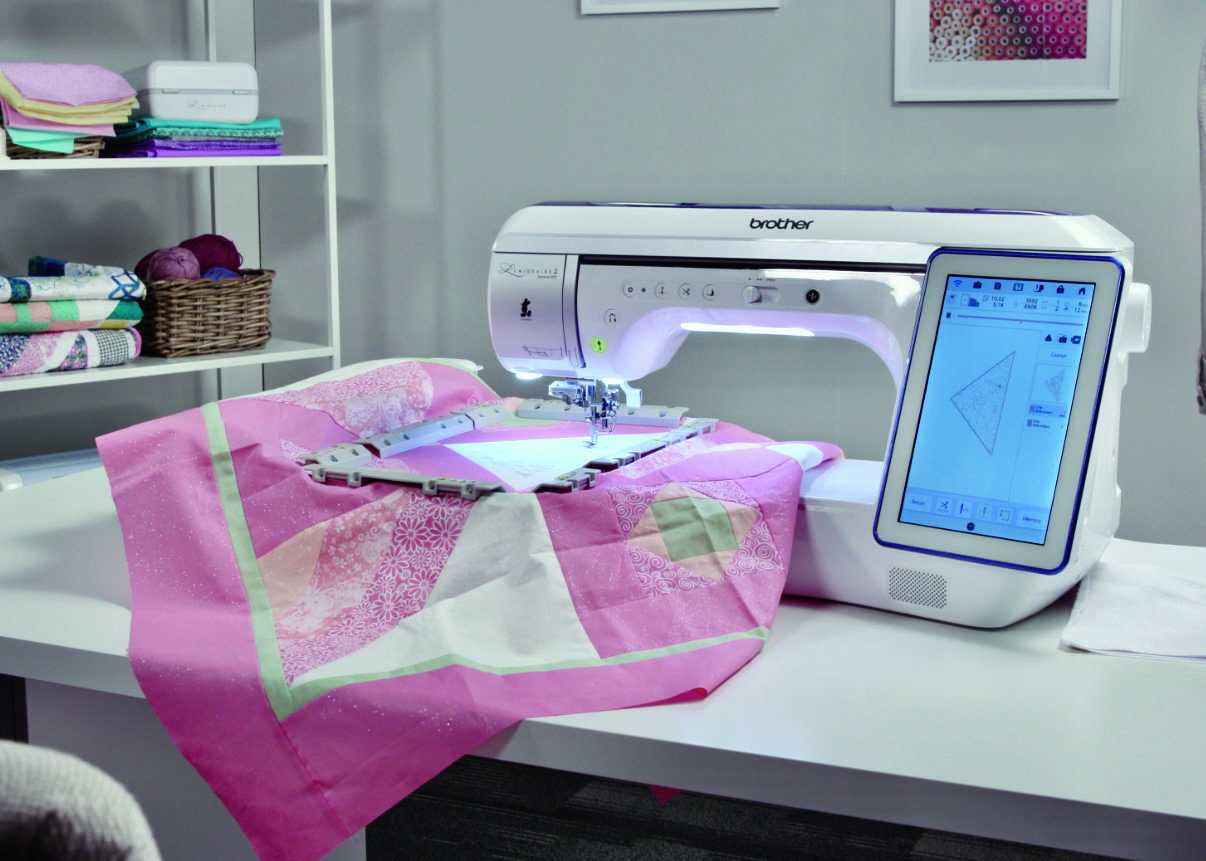 QUILTING CAPABILITIES
Only the Luminaire 2 has 5 options of 2 color quilt sash designs. Enjoy 5 hexagon shapes for auto-split sash and then choose from either single or triple stitch to let your stitches stand out on your projects. We call it Quiltbroidery!
---
GENERAL FEATURES
13.1" needle to arm, and 5" height from sewing bed to top of machine arm
Almost 13" of full-spectrum lighting around the needle, with five adjustable settings
Automatic needle threading system
Separate bobbin winder system with adjustable bobbin winding speed
5-level adjustable bobbin winding thread amount
InnovEye Plus Technology
4x larger viewing area and faster scanning in high resolution
Foldable 2-thread spool stand magnetically attaches to the top cover
One action needle plate with enhanced guidelines
Convenient compartment for storing needle plate, on the sewing unit
Quiet operation during sewing and embroidery
Wireless LAN compatibility with PE-DESIGN 11 allows you to wirelessly send and receive embroidery stitch data between your PC and the Luminaire 2
Dual Purpose Stylus, to select options on the LCD screen as well as interact with icons displayed on fabric by the projector
Automatic thread tension
Automatic thread cutter
Textured surfaces on the machine bed area and embroidery unit reduce glare and enable smooth fabric feeding
Presser foot lever in convenient location
---
MY DESIGN CENTER
Draw directly on the large LCD display to create embroidery
ScanImation Scanning Frame
Line art scan and embroidery
Ability to scan a drawing or JPEG file for embroidery
60 closed shapes and 30 open shapes
42 decorative fill patterns
17 line styles with flipping capability, including E and V appliqué stitches
Scan and stipple for decorative fills
Recognize embroidery outline from embroidery mode and save up to 20 shapes
Trapunto-like effects
Up to 1600% zoom with an easy pan tool
Flip design horizontally
Includes "Undo" feature, with added "Redo" capability
---
EMBROIDERY FEATURES
InnovEye Plus Technology and Snowman Embroidery Positioning Marker for precise positioning
Camera scanning in "Fine" and "Standard" modes, with higher scanning speed than previous machines
Projector to preview the selected pattern position on the hooped fabric
Projector feature to preview needle drop position in a projected "T" or dot shape with 3 color choices
Enhanced AccuTrac Embroidery System for better embroidery arm support in both horizontal and vertical directions
Brushless motor for the embroidery unit to provide powerful, quiet and controlled operation with beautiful embroidery output
Large 10 5/8" x 16" embroidery area
Embroider up to 1,050 stitches per minute, with faster completion speed than previous machines
More than 1,300 built-in embroidery designs, including 192 Disney・Pixar characters
24 built-in fonts: 22 Alphabet, 2 Cyrillic
Simplified user interface for text input and editing, with various editing capabilities such as curving, arraying, and space adjustment
Go forward or backward up to 1,000 stitches, or by choosing a desired point on the progress bar
Thread sensors for upper and lower threads
Jump stitch thread trimming with thread wiper
Enhanced embroidery thread palettes include expanded brand and color choices when reading embroidery data and customizing the color further
Embroidery Drag & Drop feature for selecting and positioning designs
Easy on-screen handles for digitally resizing and rotating designs
Up to 400% zoom-in preview window, with a convenient pan tool to quickly access the desired area
On-screen auto density adjustment (stitch to block)
Color Shuffling 3 function, which can choose one thread brand that has more color variations
No-fuss stippling in embroidery edit
Echo quilting button to add echo lines around the embroidery motif
Thumbnail sizes (large, medium, and small) are adjustable with tablet-like pinch-in and pinch-out functionality
Direct touch button for color change on the screen
Resume function
Hoop size and grid options can be adjusted separately
Direct touch button for embroidery order
Automatic frame detection
Selectable thread brand when reading built-in designs or external designs
Progress bar to recognize current position in the active task
Auto Split of quilt block sashes function with 30 (incl. 5x Hexagon/5x 2-color) built-in designs
Built-in hexagon shapes for auto split sash to give you more options for your embroidery/quilting projects!
Two-color quilting sash designs for eye catching, colorful borders.
Redo and undo operation up to 10 times in embroidery editing
Intuitive information key to see thread list before selecting pattern
---
SEWING FEATURES
End point sewing feature, to stop your stitch in the perfect place by just placing the Snowball End Point Sewing Sticker.
Projector that shows adjustable single and double guidelines, with advanced technology to display in a larger area than previous machines
Projector that displays gridlines with adjustable intervals
Projector shows stitch image on fabric with width, length, and left/right shift adjustment icons
Stitch image projected onto fabric will change to match stitch design previewed on LCD screen
'+' icon to choose to connect an additional stitch design, or to refresh your stitch design
MuVit Digital Dual Feed System with included general foot (also compatible with various additional feet)
My Custom Stitch Feature is to create your own stitch. Combine, edit and 185 built-in sample stitches
Automatic Height Adjuster (AHA) feature for automatic presser foot pressure
Reinforcement stitch
Virtual Stitch Preview with InnovEye Plus Technology
Lightning-quick pivoting functionality, with customizable foot height
Sew without thread for paper punching
Square feeding system with powerful and long feed dogs.
Large adjustable knee lifter. Adjust the lever in three angles for your ideal sewing position.
Flexible presser foot height-stop with the included knee lifter. Adjust the Presser Foot in four different heights.
Needle plate detector for safe operation
Ruler design with zero mark at the needle
154 utility stitches
670 decorative stitches, including 10 Disney sewing stitches
Sew up to 1,050 stitches per minute
Free motion mode automatically adjusts the foot height
Automatic feed dog drop
Large size one-step buttonhole, up to 47 mm
Camera detection buttonhole foot
Adjustable buttonhole slit length
Flexible size change for most of the built-in stitches
Basting stitch with N foot and free-motion technique
Easily accessible screen options for needle up/down, and pivot
---
LCD DISPLAY FEATURES
Large and clear 10.1" built-in HD LCD display, with tablet-like operation, including pinch-in and pinch-out functionality, flick, and slide scrolling
More than 16 million possible colors with no color shifting on LCD
Select embroidery designs and sewing stitches on the tablet-like display
Realistic preview of selected stitches and patterns
Faster on-screen design rendering than previous models
Over 40 instructional videos are available
Built-in PDF view of instructional manuals
---
SOFTWARE FEATURES
My Stitch Monitor mobile app to keep track of your embroidery
My Design Snap mobile app for image transfer to send an illustration directly to your machine
2 high-speed 2.0 ports for design transfer and SD card compatibility
Customizable USB mouse pointer function with an optional mouse
Optional external USB embroidery card reader version 1.2 or later
Operational sounds in 5 levels
12 built-in languages
Higher power CPU than previous models
---
ACCESSORY FEATURES
Compatible with PE-Design 11 personal embroidery and sewing digitizing software to enable wireless LAN connectivity between your PC and Luminaire 2. Send designs back and forth wirelessly
Optional Hoopnetic Magnetic Sash Frame to hoop thick materials with ease
Optional Magnifying lens with two layers/powers that you can easily flip down to see without straining your eyes
Compatible with BES 4 Dream Edition Embroidery Lettering Software, BES 4 Power Pack Add-Ons and the BES 4 Wireless Upgrade Kit
Includes four sizes of embroidery frames: 10.5/8" x 16" with an easy lever release, 10 5/8" x 10 5/8" with an easy lever release, 5" x 7" and 4" x 4"
16 accessory feet, including 1 embroidery couching foot and 1 couching dual feed foot
High-quality accessory box with 3 trays for storage, to fit within 13.1" arm of machine
Straight stitch needle plate with angled lines for piecing placement and straight stitch foot
Optional multi-function foot controller for hands-free control of select sewing functions